Tartu observatorijas Kosmosa tehnoloģiju semināri
Publicēts: 3.10.2023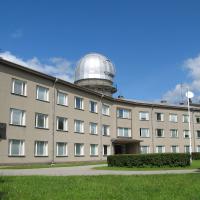 Tartu universitātes Tartu observatorijas rīko tiešsaistes priekšlasījumus par dažādām ar astronomiju un kosmonautiku saistītām tēmām. Pasākumi ir brīvpieejas.
We are continuing our weekly seminar series on Wednesday, November 22 at 16:15 EET. This week, the talk will be given by our very own Joosep Kivastik (Tartu Observatory, University of Tartu).
Topic: Data Eats Models for Lunch
In the ever-evolving landscape of machine learning powerful models garner attention. However, the pivotal role of high-quality data often remains underestimated. This presentation delves into the symbiotic relationship between data and models, emphasizing that the success of machine learning endeavors hinges on the richness, relevance, and cleanliness of the underlying data. By exploring real-world examples and strategies for effective data management, we unravel the transformative potential of robust datasets in shaping the destiny of models. Join me to unravel the secrets behind empowering data to satiate the voracious appetite of models.
Please join the meeting using the following link.
https://ut-ee.zoom.us/j/92546023702?pwd=T0J4dzRxTkZSekVySTFNMUFKQVJZUT09
Meeting ID: 925 4602 3702
Passcode: 180983
The seminar series is public. Feel free to forward this announcement to your colleagues. Please sign up for announcements of upcoming seminars here: https://forms.gle/NiTQWGZQ2FXUtTA89
Upcoming Seminar:
November 29, Christian M. Fuchs (Fox2Space)
December 6, Andris Slavinskis (Tartu Observatory) - ESTCube-LuNa mission design
December 13, Ike Ofodile (Tartu Observatory) -ESTCube-2 attitude modelling PhD thesis pre-defense
UT Tartu Observatory
Komentāri
SEKOJIET MUMS
NENOKAVĒ!