Tartu observatorijas Kosmosa tehnoloģiju semināri
Publicēts: 5.10.2022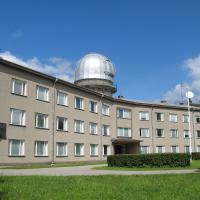 Tartu universitātes Tartu observatorijas rīko tiešsaistes priekšlasījumus par dažādām ar astronomiju un kosmonautiku saistītām tēmām. Pasākumi ir brīvpieejas.
We are continuing our seminar series for the semester on Wednesday, January 25 at 16:15 EET. The talk will be given by Andris Slavinskis (University of Tartu).
Topic : E-sail, ESME and ESTCube
Electric solar wind sail (E-sail) is a novel propellant-less system concept. Electric Sail Mission Expeditor (ESME) is a newly established simulation development project for analyzing E-sail trajectories and missions. Electric Sail Test Cube (ESTCube) Programme has worked nearly 15 years on E-sail in-orbit demonstration missions. This seminar will provide an overview of E-sail, ESME and ESTCube principles, history and on-going & new projects as well as my personal involvement in this humanity's project to sail the Solar System and beyond.
Please join the meeting using the following link.
https://ut-ee.zoom.us/j/92546023702?pwd=T0J4dzRxTkZSekVySTFNMUFKQVJZUT09
Meeting ID: 925 4602 3702
Passcode: 180983
The seminar series is public. Feel free to forward this announcement to your colleagues. Please sign up for announcements of upcoming seminars here: https://forms.gle/NiTQWGZQ2FXUtTA89
Upcoming Seminar:
February 1, 2023 : José Ferreira (University of Southern California) - Preliminary assessment of spacecraft demise in atmoshphere
February 8, 2023 : Antti Penttilä (University of Helsinki) - Hyperspectral camera performance simulation software
February 15, 2023 : Karin Kruuse (UT Tartu Observatory) - Comparing Physics Simulation Approaches for Realtime Lunar Rover Simulation
February 22, 2023 : Tomas Kohout (University of Helsinki) - On-board noise filtering and compression of hyperspectral data
March 1, 2023 : Esa Kallio (Aalto University) - Suomi 100
UT Tartu Observatory
Komentāri
SEKOJIET MUMS
NENOKAVĒ!