Tartu observatorijas Kosmosa tehnoloģiju semināri (238/0)
Publicēts: 14.09.2021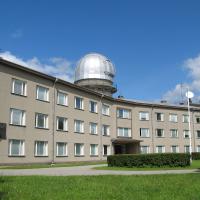 Tartu universitātes Tartu observatorijas rīko tiešsaistes priekšlasījumus par dažādām ar astronomiju un kosmonautiku saistītām tēmām. Pasākumi ir brīvpieejas.
The next talk on Wed September 29 at 16:15 EEST will be given by Riho Vendt (UT TO).
Title: Labs at UT Tartu Observatory
Abstract:
Please join the meeting using the following link.
https://ut-ee.zoom.us/j/92546023702?pwd=T0J4dzRxTkZSekVySTFNMUFKQVJZUT09
Meeting ID: 925 4602 3702
Passcode: 180983
The seminar series is public. Feel free to forward this announcement to your colleagues. Please sign up for announcements of upcoming seminars here: https://forms.gle/NiTQWGZQ2FXUtTA89
Here is a tentative schedule and topics for known upcoming talks:
Sept 29: Riho Vendt (UT TO) on labs at UT Tartu Observatory
Oct 6: Ayush Jain (ESA-ESTEC) on labs at ESTEC
Oct 13: Mario F. Palos on rendering space scenes
Oct: 20: Bagus Riwanto (Aalto U.) on calibration and testing techniques for nanosatellite attitude system development in magnetic environment (PhD thesis)
Oct 27: Janis Dalbins (UT Tartu Observatory) on ESTCube-2 engineering challenges
Nov 3: Mihkel Pajusalu (UT TO) on Venus Cloud Life
Nov 10: Iaroslav Iakubivskyi (UT TO) on nanospacecraft for technology demonstration and science missions (PhD thesis)
Nov 24: Anna Aret (UT TO) about activities at the Department of Stellar Physics
Dec 1 and 8: Project presentations of the space technology course chaired by Joosep Kivastik (UT TO)
Dec 15: Aditya Savio Paul (UT Tartu Observatory) on development of a space simulation environment: motivation and requisites
UT Tartu Observatory
Komentāri
SEKOJIET MUMS
NENOKAVĒ!